Maitland Patient Reviews for Verne Chiropractic Clinic
We love your feedback! Do you have a story you'd like to share? Please tell us about it and help spread the good news of Chiropractic.
Pediatrician Referral!
Before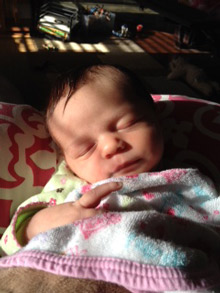 After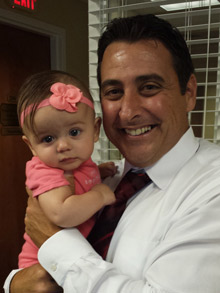 I was recommended to visit a chiropractor because my child, who was 2 months old at the time, always kept her head to the right.  When she slept it was to the right, when I held her she kept it to the right and everything she did her head would stay to the right.  At first I didn't think anything of it because my first child never had this problem.  Well we went to her pediatrician for her check up so I asked him about it and he suggested to take her to a chiropractor.  I didn't know of any chiropractors and I have heard from people that they like to take your money so I did address those issues with my pediatrician.  That's when he recommended Dr. Michael Verne. Show More
The next day I called and spoke with his receptionist April who was kind, understanding and really nice.  I explained to her what was going on and she suggested to come in for a consultation so I made the appointment.  I must say it was the best decision I ever made.  Dr. Verne explained everything to me first about what he was going to do and that it wouldn't hurt her.  After he adjusted her for the first time later that day my daughter took the longest nap in the world and she isn't a very good sleeper.  To my surprise Dr. Verne called to check on her at 6:00 that night. I was so surprised and happy at the same time because he knew I was worried and he called just to see how she was doing.  As of today she is 4 months old and the progress that he has done with her is awesome.  She holds her head straight, she moves it better and she now can move it to the left.   All and all I would recommend Dr. Verne and April to anyone who needs a chiropractor.  He is awesome and really cares about kids.  Thank you Dr. Verne for everything you have done and are doing for my daughter. – Christina S.
---
Recommend!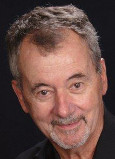 Dr. Verne and April are very helpful and accommodating to their patients. I am very pleased with their services and have passed on many recommendations to friends and relatives.
- John A.
---
Very Impressed!
Because I was in a car accident, I needed treatment immediately. My way of living is very holistic, so I take great concern in who I confine in for any kind of treatments. Dr. Verne was highly recommended by friends and clients. After meeting with him, I was very impressed! He totally understands, is extremely knowledgeable, and is filled with positive energy! I look forward to correcting my spine with his expertise and instruction. - Irma B.
---
Pleasant Experience!
I had a very pleasant experience with my first visit. I didn't have a clue what to expect and was very surprised that you had anticipated my confusion by showing the video explaining what it was all about. That was most helpful to me. Of course, Dr. Verne was also very quick to explain and answer my questions. I'm very hopeful that I can get good results with treatments suggested. - Therese R.
---
Gentle and Effective!
I am 70 years old and have been going to chiropractor's since age 24. Dr. Verne is the best of all. The technique he uses is gentle and effective. He and staff, April, treat you like family..caring and kind. I highly recommend him to all my friends and family. - Barbara L.
---
I would recommend Dr. Verne to everyone!
"After having an MRI in 2009 it showed I had 4 bulging discs in my lumbar area pressing on my spinal cord. My M.D. and an orthopedic surgeon recommended I have back surgery. A friend of my recommended I go see Dr. Verne. It was my first experience with a Chiropractor and Dr. Verne put me at ease by explaining everything, taking x-rays and showing me my spine. I have avoided surgery and have been able to function normally due to his caring and professional treatments and suggestions for exercises. After a severe and prolonged period of 6 months away, due to knee surgeries and illness, Dr. Verne has helped me to return close to where I was before and continues to help me make progress. Dr. Verne treats his patients like family! I would recommend Dr. Verne and his very capable office manager April to everyone." - Deborah R.
---
Chiropractic made such a difference!
"I learned of Dr. Verne through my mother-in-law who has been his patient for over 13 years. I have now been a patient of Dr. Verne's for over 8 years. Initially working retail and on my feet all day, I noticed some back and neck pain. My evaluation revealed some much needed corrections. I am now a registered nurse working 12 hour days. Adjustments help maintain my posture, endurance and overall health. I continued my treatment throughout my pregnancy as well. It made such a difference and kept me feeling great! Thank you Verne Chiropractic!" -Robyn M. R.N.
---
Totally relieved of my pain!
I was referred to Dr. Verne by a massage therapist. I came to him with severe neck & arm pain. In a short amount of time I was totally relieved of my pain. A treatment plan was completed and now a maintenance plan of once a month visit keeps me healthy. I am thankful for this less invasive treatment that keeps me out of an operating room as a patient. Dr. Verne & his staff are competent, caring and very personable. -Tina U., RN
---
Improved overall health and well-being!
I've been seeing Dr. Verne since 2003 and have had a good relationship of trust in his treatments and recommendations. I feel my overall health and well-being are attributed to my regular sessions with chiropractic. -Shirley B.
---
Unmatched customer service
I have been a patient of Dr. Verne's for almost 10 years. He has treated my whole family; including all of my newborn children. Dr. Verne pays the utmost attention to detail and does an extensive diagnostic review prior to adjustment. This is because he does not practice "cookie cutter" style medicine. He treats each patient on an individual case by case basis. No two patients are alike. This insures that each individual patient gets the exact cure that he/she needs. Dr. Verne is also a really nice guy with a great sense of humor. I enjoy speaking with him when I come in. Also his office staff treats patients with courtesy and respect. The customer service is unmatched. They are always willing to accommodate my individual needs. Lastly, the equipment in the office is great, with things like the wobble chair, electrical stimulation therapy and Dr. Verne's "famous massager". Dr. Verne also uses mechanical adjusting instrument as opposed to the old fashioned outdated manual style of adjusting. I recommend Dr. Verne to all my friends and family and I am 100% confident they will feel the same way I do. -Michael H., RN, RCIS, BSN
---
Personal, Professional, Friendly
Chiropractic is something I've been doing for years. Dr.Verne's techniques and computer assisted tools are very effective. The patient care is personal, professional and friendly. I have received excellent care and my problems have been relieved. I continue care at Verne Chiropractic because I know prevention is far better then the cure. I recommend chiropractic to friends and co-workers & especially to Verne Chiropractic Clinic. -Virginia M.
---
Dr. Verne will help you get back to normal in no time!
Hi my name is Nicolas Santana and I am a 26 year old Professional Athlete.   I play for the 2013 Major World Series Champions Resmondo/Worth Slow Pitch Softball Team.  I have been playing baseball my whole life and when that didn't work out I found my calling in softball.  Over the years I have put a lot of wear and tear on my body especially my back due to all the twisting.  For the past 2-3 years my lower back and neck have been giving me a lot of problems.  I was at the field one night and saw a team called Verne Chiropractic so I figured why not walk up and talk to Dr. Verne.  I came in for my initial visit and Dr. Verne explained everything in easy terms for me to understand. I was hesitant on letting anyone work on my spine and "pop my bones", but Dr. Verne showed me what he does and how he uses a computerized system.  Over the course of my treatment I started to feel better and had more mobility and less pain then I had in years.  I would recommend Dr. Verne to any athlete or person who has endured a lot of wear and tear on their body. Dr. Verne will help you get back to normal in no time. – Nicolas Santana #21     2014
---
Thank You Dr. Verne!
Please let it be known, that as I made the bank deposit today, I thanked Dr. Verne.  As I turned around to check for traffic in the parking lot, I thanked Dr. Verne.  Instead of the elevator, I run up the stairs…again thanking Dr. Verne.  After my appointment, I personally thank Dr. Verne, and then April.  I appreciate them more than they could ever know.  I am a detail landscaper by trade and due to chiropractic care I am able to perform the daily tasks that my job requires. -Therese F.
---
I'm Extremely Pleased!
I've gone to Dr. Verne for years, and I wholeheartedly recommend him. He's friendly, knowledgeable, honest, and takes a personal interest in my life. He uses the Pettibon system for precision treatment rather than relying on only manual adjustments, and this is one huge advantage over the other chiropractors I've gone to. I'm extremely pleased with the quality and cost of treatment. - Tanner H.
---
He Always Listens To My Concerns!
Been going to Dr. Verne for several years now. He always listens to my concerns and makes appropriate adjustments to keep my back and neck in top shape. He uses the latest technologies and is up to date on the most current treatments. I wouldn't go anywhere else for my back care. -Steve S.
---
Relief Finally!
I have been going to Dr. Verne for many years for back and neck problems with great results.  The reason why I am submitting this testimonial is because I suffered from severe achilles tendons in both my ankles.  I went to an orthopedic doctor and 2 podiatrists.  After going through therapy and wearing a boot nothing helped.  The orthopedic doctor wanted to do surgery.  It made me very nervous, so I talked with Dr. Verne and he suggested I try his Rapid Release Vibration Therapy.  After being treated for 1 month I was pain free and walking normal.  What a Relief! Dr. Verne is a great doctor who cares and has a great office assistant April. -Mike
---
 Helped My Sciatica Pain!
I was suffering a lot of pain from sciatica when my friends recommended Dr. Verne.  I am so glad they did.  The sciatica pain has almost disappeared.  I feel so much relief from that pain.  Dr. Verne's care has improved my range of motion and I am able to get around much easier now.  It has also helped me to sleep better and has helped me with my blood pressure.  I am grateful to Dr. Verne for making my life so much better.  I would highly recommend him.  His staff, April is also wonderfully helpful. -Gail W.
---
The Best Results!
I have been to several chiropractors during my adult life, my father was an M.D. so we weren't even allowed to say the word Chiropractor. I have scoliosis and was never treated until I was in my 30's. Dr. Verne's adjustments and rehabilitation therapies have given me the best results!
I particularly appreciate the Rapid Release Therapy. My shoulders tend to be VERY TIGHT and RRT has helped me a lot. Recently I strained some muscles in my left foot and it was getting almost impossible to walk without immense pain. After several RRT sessions, the swelling and pain are almost completely gone.
- Alison M.
---
Interested in becoming another one of our success stories in Maitland? Call Verne Chiropractic Clinic today!